CANADA GOOSE HALL OF FAME
By Mary Lou Simms
ALABAMA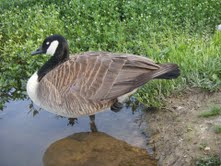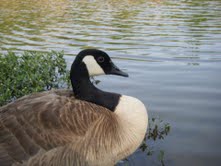 Photos of Baby Honker and Gandy, Baby Honker's Dad
HELENA: Geese are treated like royalty at Tucker Lake in Helena, just south of Birmingham . Here you may find as few as 10 or as many as 150 geese. Residents feed geese cracked corn and bread, and the park's maintenance crew keeps the grounds so immaculate that sometimes you wouldn't know there were geese around. Mayor Sonny Penhale went further. After a Canada goose caught in fishing line had to be euthanized, the park posted signs warning anglers about leaving fishing line or hooks behind or face up to a $500 fine. The park has several popular pairs of geese – Gandy and Olivia, whose only gosling, Baby Honker, remains the lake's young star, and an older pair known as The Grandparents, thought to be at least 10 years old. In June, when the feds killed 350 geese at three city parks, the 200 molting geese here were safe. Most of them have since left, except for the regulars.
MONTGOMERY: Geese were killed several years ago at Wynlakes Golf and Country Club and Arrowhead Country Club. Today John Cargill, Arrowhead manager, who came from another location where there were geese, is implementing humane measures. "The addition of fake alligator heads to the lakes has done wonders," he says. "I don't know that it's the best remedy but we wanted to try something more humane." The cost is also minimal -- $50 per alligator head. He also says that nearby property owners who don't want geese have fenced off their land, another option that is working.
ARKANSAS
HOT SPRINGS VILLAGE: From 700 to 1,000 geese visit the location's nine golf courses and 20-plus lakes. Humane measures are practiced here but residents also feed geese cracked corn and bread, and say they have close bonds with many of the glamorous vegetarians. Residents are oiling nest eggs to curb population growth. "There was a big drop in the births of goslings this spring," says Steve White.
CONNECTICUT
GREENWICH: Connecticut is one of about a dozen states where reports show that slaughters have become almost non-existent. "They love our lawns," says Denise Savageau, town conservation director, of the 400 or so resident geese that fly in and out.
ILLINOIS
ROCKFORD: A medium-sized city near Chicago . The Rockford Park District says that it "works to resolve the challenges of resident geese … to build a community that lives in harmony with its wildlife." For information on the Rockford program or to view a video showing how border collies are used, contact JanHerbert@rockfordparkdistrict.org
MISSISSIPPI
JACKSON : Barnett Reservoir in Jackson , a destination for thousands of geese along the Mississippi Flyway, cancelled plans to euthanize geese after residents voiced disapproval. Here geese are as much a part of the landscape as the acres of pristine waterways on The Rez, as it's called, a year-round vacationland. After dining themselves, patrons of the Cock of the Walk, a popular waterfront restaurant, feed geese leftover corn bread. "It's an evening ritual," says Roger Brock, a senior manager for 27 years. "The kids love it. They can't wait for the meal to end so they can begin feeding the birds." Geese are also scattered throughout the city, grazing on empty fields behind strip malls or roaming tree-lined streets in upscale subdivisions like The Cascades, a senior community where at least a dozen geese are regulars.
MISSOURI
BALLWIN: Public officials voted against slaughtering geese at four parks. Volunteers addle nest eggs, use a border collie six months of the year and park maintenance crews clean up after the geese to keep the parks generally free of poop. No geese kills are planned, says Linda Bruer, Ballwin Parks and Recreation director. "We're trying to live harmoniously (with geese)," she says. "That's what our community wants."
ST. LOUIS: After exhaustive efforts eight years ago, GeesePeace volunteers managed to stop slaughters at Forest Park , "the city's jewel." Volunteers continue to treat nest eggs each year to stabilization populations. The Missouri Department of Natural Resources has also noticed a decrease in statewide requests to slaughter. "We still permit roundups but we prefer to avoid them," says DNA wildlife biologist Erin Shank. "And requests (for slaughter) are fewer and far between."
NEW JERSEY
DEMAREST: Jim Carroll, Chairperson of Freeholders, the group that banned slaughters in Bergen County , brought GeesePeace to Demarest when he was Mayor of the small community. "It was a wonderful experience," he recalls. "I'm not in favor of mass executions of geese," he says, warning people about believing everything the government tells them. "People think that if the government says so, it must be true but in the case of geese, there are a lot of lies being told."
ESSEX COUNTY: Canada geese have a dear friend in Del DeMaio, GeesePeace coordinator for 11 parks in Essex County . "We're trying to be humane in a way that is effective," says DeMaio, who oversees efforts to curb the population by oiling eggs every spring. She remembers the time she and several colleagues followed a gander in search of a nest, a 15-minute trek that turned out to be a wild goose chase. He led the trio to the water and swan off. On the way back, she noticed a goose building a nest amid an array of twigs. "Her gander had led us away from the nest," she says, in admiration. "That's how smart they are."
NEW MEXICO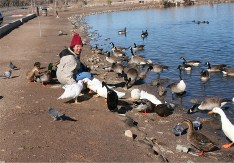 Choo enjoys feeding the ducks and geese at Tingley Beach in Albuquerque
ALBUQUERQUE: Several thousand Canada geese spend winters here and several hundred reside here all year. The city is also host to thousands of sandhill cranes in winter. The city has a 28,000-acre Open Space program, which includes areas where corn is planted for geese and cranes. Tingley Beach, a fishing pond, also hosts hundreds of geese and other waterfowl. It's also considered tradition to feed waterfowl at this pond. There is also a small feed-friendly duck pond at the University of New Mexico campus.
NEW YORK

CLARKETOWN: Some 15 years ago, there were highly controversial geese removals in this city west of New York City . "We have not killed since then," says Jo Anne Pedersen, Director of parks and recreation. It's a solution she says has been successful in managing the 1200 geese that frequent at least a dozen parks and recreational facilities. As she was talking, a dozen geese swept down on a patch of grass outside her office window. "They have X-ray vision," she says, laughing. "They can spot grass a mile up." She remarks that "basically the dogs do the job," but adds that treating the nests is crucial. "If you don't addle the eggs," she says, "you're done."
SCOTIA: There is no longer talk of killing geese at the village's Collins Park . Several years ago volunteers chased off geese to prevent them from being killed. The village purchased a $6,000 machine that removes geese poop. Today 30 geese are allowed at the lake at a time. If there are more, volunteers chase them off.
OKLAHOMA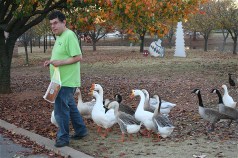 Earl feeding the ducks and geese in Elk City.
We usually do not feed them bread but we weren't expecting to find such a delightful pond on our trip.
ELK CITY: This small city of 10,000 has an attractive duck pond in the middle of the city. In tourist brochures, visitors are encouraged to feed the geese and ducks. There are lots of Canada geese here along with domestic geese, mallards and wood ducks. People feed waterfowl all day long. Children are allowed to fish at this pond, but carelessness (in leaving fishing line and hooks behind) has caused injuries to the waterfowl.
SOUTH CAROLINA
HARBISON LAKE , near Columbia : Some 200 community geese were once slaughtered; among them several recovering geese in which veterinarians and rescuers had invested both time and money. "We were furious," recalls Joanna Weitzel, executive director of Carolina Wildlife Care, the state's largest wildlife facility. "We had placed several recovering geese there, including a young gander because we thought he could find a mate." Sid Crumpton, president of the Harbison Community Association, says it's a decision he regrets. "Had I thought it through, I doubt that I would have made that choice," he says. Today residents, officials and wildlife rehabilitators continue to work together to keep both the (new) geese – and the peace.
WASHINGTON
SEATTLE: A decade ago, great numbers of geese were rounded up and gassed every summer. Today the city is considered a model on how to manage Canada geese populations with compassion, the result of a massive three-year pilot program launched by PAWS (Progressive Animal Welfare Society) and the HSUS in conjunction with Seattle Parks and Recreation. Seattle is also known for its extensive landscape changes, considered the most effective way to keep geese from returning to the same areas. Volunteers also remove excess geese waste from beaches and other recreation areas used by people, addle nest eggs and educate the public on conflict resolution involving geese. The goal is for the program to evolve into a permanent replacement for non-lethal treatment of geese in city parks and to serve as a model for other communities experiencing geese conflicts. For geese info, call (425) 787-2500, ext. 817, or email media@paws.org.
CANADA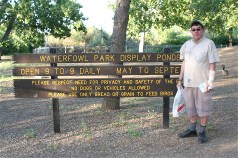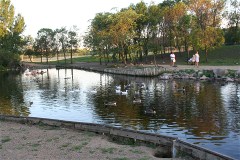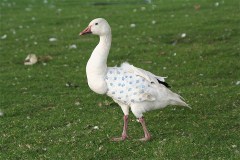 Photos of Wascana Waterfowl Park in Regina: Earl poses beside the entrance; visitors feed the waterfowl; injured goose sports a bandage!
REGINA, SASKATCHEWAN: The Wascana Centre hosts thousands of geese from March through November and visitors and residents are encouraged to feed the waterfowl in tourism brochures. Wascana Waterfowl Park, a fenced-off duck pond which is part of Wascana Centre, is home to Canada geese, snow geese, swans and other ducks. It also serves as a sanctuary for grounded waterfowl and you see geese with broken wings. Some of the waterfowl that are being treated sport bandages! Migrant geese fly in to join the resident flock. In late autumn, the resident waterfowl are taken to an indoor pond where they spend their winter. Visitors are encouraged to feed the birds and there is even a bread bin at the entrance which is often filled with bread donated from local stories. The park management provides grain for the waterfowl daily. This is a charming, delightful duck pond where visitors can spend the day. Admission is free.
KINGSVILLE, ONTARIO: The Jack Miner Bird Sanctuary is a sanctuary for migrating waterfowl as well as its resident flock of injured birds. Free barley is provided and visitors are encouraged to hand-feed the geese. Admission is free and visitors say it is a wonderful way to spend the day mingling with the wildlife.
GEESEPEACE COMMUNITIES
Virginia: Lake Barcroft , Reston , Virginia Beach.
Maryland: Montgomery County .
Massachusetts: Sharon (near Boston ), Boston and Worcester .
Missouri: Mission Lake.
New Jersey: The Jersey Shore (five burroughs), Trenton (the airport), Ridgewood .
New York: Oyster Bay, Brighton (near Rochester ), Nassau County , Orange County , Hempstead, Valley Stream, Massapequa Park and Greenwood Lake .
North Carolina: North Ridge Country Club in Raleigh .
West Virginia: The Timberline community.
United Kingdom: Stratford-upon-Avon , England .